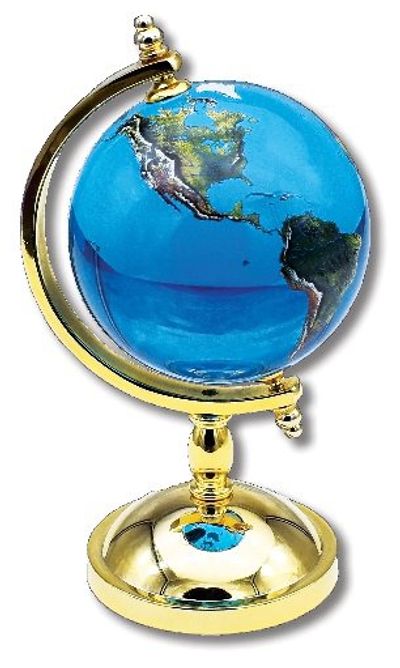 Crystal Earth Gold Plated Stand
SKU: SHA999-151
This beautiful glass and gold sculpture will bring the whole World to your desktop, nightstand, or workspace.

A piece of art both inspirational and functional, the 22 karat gold-plated stand allows the whole World to spin with ease. The aqua crystal sphere has geographically accurate full-color natural Earth continents, showing more than 50 rivers, islands, lakes, ice-caps, deserts, rainforests, and mountain ranges in exquisite detail.

The Globe rotates at the correct 23.5 degree axial tilt of the actual Earth in relation to its orbit around the sun, illustrating the seasons.

This Globe and stand sits at 4" (100mm) tall
22 karat gold plated stand
2" (50mm) diameter aqua glass Earth with natural continents
Commonly used as a paperweight, desk ornament, and gift
The geographic globe art is expertly kiln fired at over 1000 degrees, creating an all-glass masterpiece that will last a lifetime!
Handmade in the USA