Evergreen Country Map (Large) by Kroll Map
SKU: KROECCL

The Evergreen Country Large Wall map of the Puget Sound Region covers from Vancouver, BC to Olympia, Washington and it includes the San Juan Islands, Whidbey Island, the Kitsap Peninsula and the eastern half of the Olympic Peninsula.
Nice, large I-5 corridor map that's easy to read!

We also sell a smaller version of this map if you want something more portable. Colors are slightly different.


Price each
Photo
Description
SKU
Units
Price
Qty
Evergreen Country Map (Large) by Kroll Map
32" x 60"|Paper
KROECCL

Add to cart

Evergreen Country Map (Large) by Kroll Map
32" x 60"|Laminated
KROECCLL

Add to cart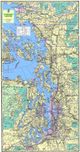 Evergreen Country Map (Large) by Kroll Map
32" x 60"|Paper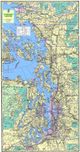 Evergreen Country Map (Large) by Kroll Map
32" x 60"|Laminated