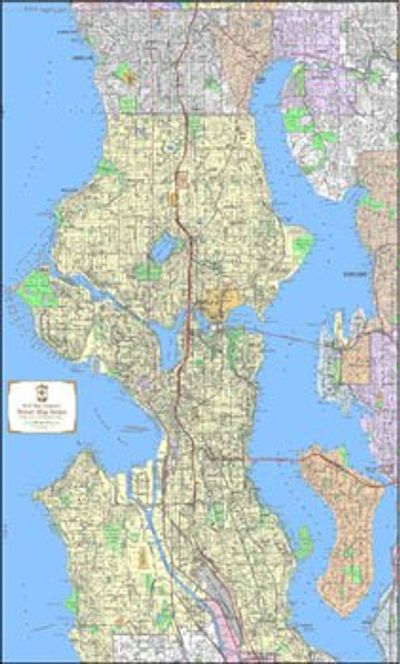 Seattle Detailed Street Map - Large (3'x6') Wall Map
SKU: KROSRE
This Seattle ZIP Code Map is a comprehensive 3' x 6' detailed street map designed to provide a detailed and intricate overview of Seattle and its neighboring cities. Whether you're a business professional seeking targeted marketing insights or a resident wanting to explore the vibrant locales, this map is an invaluable tool for both personal and commercial use.
The Seattle ZIP Code Map displays the distinct boundaries of Seattle and the surrounding cities including Shoreline, Kenmore, Mercer Island and others...highlighted in vibrant and contrasting colors, allowing for a quick and clear identification of each city's territory. The seamless overlay of ZIP code boundaries and their corresponding numbers further enriches the map, providing essential geographic information to enhance your understanding of the region.
At the heart of this detailed map are the intricate street networks, highways, schools, and parks that define the landscape of these dynamic cities. Every road, avenue, and boulevard is carefully outlined to offer a precise representation of the urban layout. Highways and major roads are prominently marked to facilitate easy navigation and route planning. In addition, essential points of interest such as schools and parks are vividly highlighted, offering a holistic view of the area and its amenities.
This map is also available without the ZIP code overlay, producing a large size, easy to read, attractive and informative Wall Map of Seattle. Both options are available in paper or laminated for greater durability.
Whether you're an entrepreneur analyzing market demographics or a Seattleite exploring the nooks and crannies of your city, the Seattle ZIP Code Map serves as an indispensable tool, blending clarity, accuracy, and aesthetic appeal. Embrace the Seattle ZIP Code Map and uncover the beauty and functionality it holds for both business and personal endeavors.