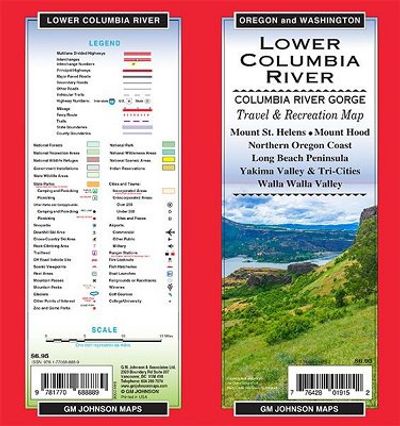 Lower Columbia River Road Map l GM Johnson
SKU: GMJWALOWCOLREG
Published by GMJ - this Columbia River Travel and Recreation Map is great for planning a trip or using on the road!

Two-sided. Side A features the lower Columbia River from Umatilla to the Pacific including Portland, Mt. St. Helens, Mt Adams, Mt Hood and insets of the Gorge and Greather Portland.

Side B will show the eastern half of the Columbia River including the Tri-Cities, Walla Walla, Clarkston, Lewiston and La Grande.

Wineries, Golf Courses, Trails, Parks and other Points of Interests are clearly noted!
Price each
Photo
Description
SKU
Units
Price
Qty
39" x 27" / 1:380,160
GMJWALOWCOLREG

Add to cart

You Might Also Like:

Photo
Description
SKU
Units
Price
Qty

Columbia River Nautical Charts by NOAA




NOS18521-Col. Riv. Pacific Ocean to Harrington Pt|1:40,000

NOS18521

Add to cart

Columbia River Nautical Charts by NOAA




NOS18523-Col. Riv. Harrington Pt to Crims Island|1:40,000

NOS18523

Add to cart

Columbia River Nautical Charts by NOAA




NOS18524-Col. Riv. Crims Island to Saint Helens|1:40,000

NOS18524

Add to cart

Columbia River Nautical Charts by NOAA




NOS18525-Col. Riv. Saint Helens to Vancouver|1:40,000

NOS18525

Add to cart

Columbia River Nautical Charts by NOAA




NOS18526-Port of Portland incl Vanc Multnomah...|1:20,000

NOS18526

Add to cart

Columbia River Nautical Charts by NOAA




NOS18527-Willamette Riv. Swan Island Basin|1:5,000

NOS18527

Add to cart

Columbia River Nautical Charts by NOAA




NOS18528-Willamette Riv. Portland to Walnut Eddy|1:15,000

NOS18528

Add to cart

Columbia River Nautical Charts by NOAA




NOS18529-Willamette Riv. Walnut Eddy to Newberg|1:15,000

NOS18529

Add to cart

Columbia River Nautical Charts by NOAA




NOS18531-Col. Riv. Vancouver to Bonneville|1:40,000

NOS18531

Add to cart

Columbia River Nautical Charts by NOAA




NOS18532-Col. Riv. Bonneville to The Dalles|1:40,000

NOS18532

Add to cart

Columbia River Nautical Charts by NOAA




NOS18533-Col. Riv. Lake Celilo|1:20,000

NOS18533

Add to cart

Columbia River Nautical Charts by NOAA




NOS18535-Col. Riv. John Day Dam to Blalock|1:20,000

NOS18535

Add to cart

Columbia River Nautical Charts by NOAA




NOS18536-Col. Riv. Sundale to Heppner Junction|1:20,000

NOS18536

Add to cart

Columbia River Nautical Charts by NOAA




NOS18537-Col. Riv. Alderdale to Blalock Islands|1:20,000

NOS18537

Add to cart

Columbia River Nautical Charts by NOAA




NOS18539-Col. Riv. Blalock Islands to McNary Dam|1:20,000

NOS18539

Add to cart

Columbia River Nautical Charts by NOAA




NOS18541-Col. Riv. McNary Dam to Juniper|1:20,000

NOS18541

Add to cart

Columbia River Nautical Charts by NOAA




NOS18542-Col. Riv. Juniper to Pasco|1:20,000

NOS18542

Add to cart

Columbia River Nautical Charts by NOAA




NOS18543-Col. Riv. Pasco to Richland|1:20,000

NOS18543

Add to cart

Washington & Oregon Coast Road Map by GMJ




39" x 27"

GMJWAORCOAST

Add to cart

Pacific Northwest Regional Map by Michelin - WA, OR




42" x 39"|1:1,267,200

MIC171-00

Add to cart

Cascadia Area Wall Map




27" x 39"|Paper

CIOCASP

Add to cart

Cascadia Area Wall Map




27" x 39"|Laminated

CIOCASL

Add to cart