Austria & Salzburg Travel Map by ITM
SKU: ITMAUSTRIA

Travel map of Austria printed on waterproof paper with a city map of Salzburg on the reverse.

The map of Austria shows roads, shaded relief, towns, points of interest, borders and much more. Because of the shape of Austria the westernmost portion, and the enclave of Liechtenstein, are shown as a large inset.

The map of Salzburg includes nearly all the urban area and included streets, museums, castles, churches and other points of interest. There is a really detailed city center inset map and a legend.


Price each
27" x 39"|1:500,000 & 1:15,000
Quantity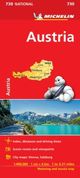 Quantity

Quantity