Ethiopia & Eritrea Travel Map l ITM
SKU: ITMETH

Ethiopia and Eritrea are both fascinating countries in their own right! The two countries are entwined and related, although a tad prickly with each other.

Each are filled with ancient historical obelisks, underground churches, rich cultural heritage and beautiful scenery.

Published by ITM - this Road Map of Ethiopia and Eritrea shows impeccable detail with roads clearly marked, waterways, national parks, gas stations and points of interests.

Using Shading to show Terrain, this Travel Map has Ethiopia on Side A with an inset of Addis Ababa. Side B will show the entirety of Eritrea with an inset of Asmara.
Price each
Photo
Description
SKU
Units
Price
Qty
39" x 27"|1:2,000,000 & 1:900,000
ITMETH

Add to cart

You Might Also Like:

Photo
Description
SKU
Units
Price
Qty
Ethiopia Travel Map by Gizi
36" x 35"|1:2,000,000
MAPGIZETHERI

Add to cart

Ethiopia, Djibouti & Somaliland Travel Guide Book

LPPEthiopiaDjiSom

Add to cart

Africa NE & Arabia Travel Map l Michelin
47.5" x 39"|1:4,000,000
MIC745

Add to cart

Red Sea Travel Map by Gizi
27.5" x 48"|1:4,000,000
MAPGIZREDSEA

Add to cart

Ethiopia, Eritrea & Djibouti Travel Map by Cartographia
33" x 26"|1:2,500,000
MAPCETH

Add to cart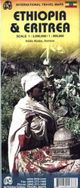 39" x 27"|1:2,000,000 & 1:900,000
Quantity

Quantity

Quantity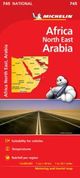 Quantity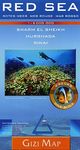 Quantity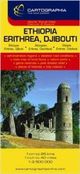 Quantity