France Reversible Map l Michelin
SKU: MIC722
Michelin Map 722 France Reversible splits the country in half - thus reducing the bulk necessary to show the same detail if the map were printed on one side.
The North half covers from the Northern Border at the English Channel down to Nantes, Tours, Dijon and Besacon.
The South, a quick easy flip of the sheet, shows the rest of France to the Pyrenees and the Mediterranean Sea.
With impeccable road detail, scenic routes, clear country boundaries and shaded relief - this map is essential for planning!
Michelin has existed for over 100 years now. Today, their maps offer some of the best detail on where to go, how to get there, where to eat and where to stay.
Their products deliver the same promise of quality and consistency we expect from them as one of the world's most trusted brands.
Price each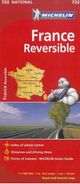 Quantity

Quantity

Quantity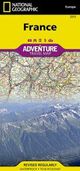 Quantity

Quantity