Georgia Wall Map l Raven Maps
SKU: RAVGAP
Raven Maps is known across the Map World as having some of the most beautifully detailed maps of US States available.
This Physical Wall Map of Georgia is no exception!
Using Hypsometric Mapping, Raven uses subtle color gradations to indicate elevation variations. While it appears to be 3D, we assure you that it's flat.
On every map – Roads, Towns, Lakes, Rivers and Mountain Ranges are clearly identified.
Available Paper or Laminated.
Price each

Quantity

Quantity

Quantity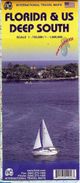 27" x 39"|1:720,000 & 1:1,000,000
Quantity

19" x 14.5" / With border~ 22.5" x 17.5"
Quantity

Quantity

Quantity