Hue Da Nang & Central Vietnam Travel Map l ITM
SKU: ITMVIECENT

Published by ITM Maps.

Hue is known as Vietnam's royal city for good reason. It's the site of the former royal palace which was the seat of the Nguyen Dynasty that lasted from 1802 to 1945 and also houses many tombs of the former emperors.

Da Nang is the most Westernized city in Vietnam, but that doesn't mean it's any less important or cultuarlly stimulating. Here you'll find Hoi An, a nearby town and UNESCO World Heritage Site.

This map will have the respective cities on one side while a regional map of Central Vietnam resides on the reverse.

Includes detailed roads, cities / towns, places of interest and used shaded relief.
Price each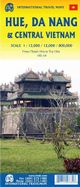 38" x 27"|1:13,000 & 1:12,000 / 1:800,000
Quantity
Quantity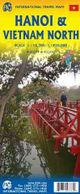 39" x 27"|1:15,700 & 1:920,000
Quantity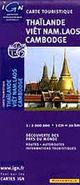 Quantity

Quantity