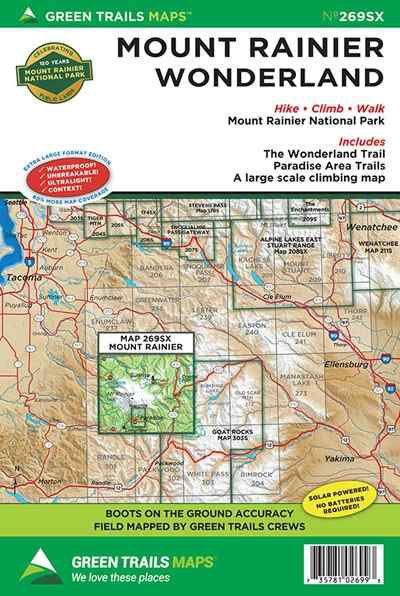 Mt Rainier Wonderland Trail Hiking Map
SKU: GRE269SX

An ideal hiking map of all of Mt. Rainier and the Wonderland Trail! One side has all of Mt. Rainier National Park at a scale of 1:63,360 with 80 foot contour intervals. Details include: roads, campgrounds, ski lifts, latitude & longitude, UTM and trails of various use - hiking, biking, horse, 4WD, X-C skiing & snowshoeing. The Wonderland Trail is featured both on the map and as a profile showing elevation gain, mileage and major points.
The back has a climbing map of Mt. Rainier at a scale of 1:24,000 with 20 foot contour intervals, climbing routes and information.
Waterproof and lightweight!


Price each
Photo
Description
SKU
Units
Price
Qty
22.5" x 30"|1:63,360 & 1:24,000
GRE269SX

Add to cart

You Might Also Like:

Photo
Description
SKU
Units
Price
Qty

Mount Rainier National Park - WA




27" x 39"|1:100,000

TRA217

Add to cart

Gifford Pinchot National Forest Map - WA




48" x 36"

NFWAG

Add to cart

Mt Rainier Climbing Route Park Maps l Stanley Maps




Mt Rainier Glacier Travel|Folded|Polyart

STA1

Add to cart

Mt Rainier Climbing Route Park Maps l Stanley Maps




Mt Rainier Climbers Route #2|Folded|Polyart

STA2

Add to cart

Mt Rainier Climbing Route Park Maps l Stanley Maps




Mt Rainier Climbers Route #3|Folded|Polyart

STA3

Add to cart

Mt Rainier Climbing Route Park Maps l Stanley Maps




Mt Rainier National Park|Folded|Polyart

STAMTRF

Add to cart

Mt Rainier Climbing Route Park Maps l Stanley Maps




Mt Rainier National Park|Flat|Laminated

STAMTRRL

Add to cart

Day Hiking Mt Rainier




Day Hiking Mt Rainier

-9781594850608

Add to cart

Cascade Mountains Hiking Maps - South Region




Mt Rainier West|Paper

GRE269

Add to cart

Cascade Mountains Hiking Maps - South Region




Mt Rainier West|Laminated

GRE269-lam

Add to cart

Cascade Mountains Hiking Maps - South Region




Mt Rainier Wonderland Trail|Waterproof Paper

GRE269S

Add to cart

Cascade Mountains Hiking Maps - South Region




Mt Rainier East|Paper

GRE270

Add to cart

Cascade Mountains Hiking Maps - South Region




Mt Rainier East|Laminated

GRE270-lam

Add to cart

Cascade Mountains Hiking Maps - South Region




Paradise|Paper

GRE270S

Add to cart

Cascade Mountains Hiking Maps - South Region




Paradise|Laminated

GRE270S-lam

Add to cart

Cascade Mountains Hiking Maps - South Region




Bumping Lake|Paper

GRE271

Add to cart

Cascade Mountains Hiking Maps - South Region




Bumping Lake|Laminated

GRE271-lam

Add to cart

Cascade Mountains Hiking Maps - South Region




Old Scab Mountain|Paper

GRE272

Add to cart

Cascade Mountains Hiking Maps - South Region




Old Scab Mountain|Laminated

GRE272-lam

Add to cart

Cascade Mountains Hiking Maps - South Region




Manastash Lake|Paper

GRE273

Add to cart

Cascade Mountains Hiking Maps - South Region




Manastash Lake|Laminated

GRE273-lam

Add to cart

Cascade Mountains Hiking Maps - South Region




Randle|Paper

GRE301

Add to cart

Cascade Mountains Hiking Maps - South Region




Randle|Laminated

GRE301-lam

Add to cart

Cascade Mountains Hiking Maps - South Region




Packwood|Paper

GRE302

Add to cart

Cascade Mountains Hiking Maps - South Region




Packwood|Laminated

GRE302-lam

Add to cart

Cascade Mountains Hiking Maps - South Region




White Pass|Paper

GRE303

Add to cart

Cascade Mountains Hiking Maps - South Region




White Pass|Laminated

GRE303-lam

Add to cart

Cascade Mountains Hiking Maps - South Region




Goat Rocks, William O. Douglas|Waterproof Paper

GRE303S

Add to cart

Cascade Mountains Hiking Maps - South Region




Rimrock|Paper

GRE304

Add to cart

Cascade Mountains Hiking Maps - South Region




Rimrock|Laminated

GRE304-lam

Add to cart

Cascade Mountains Hiking Maps - South Region




Tieton|Paper

GRE305

Add to cart

Cascade Mountains Hiking Maps - South Region




Tieton|Laminated

GRE305-lam

Add to cart

Cascade Mountains Hiking Maps - South Region




Spirit Lake|Paper

GRE332

Add to cart

Cascade Mountains Hiking Maps - South Region




Spirit Lake|Laminated

GRE332-lam

Add to cart

Cascade Mountains Hiking Maps - South Region




Mt. St. Helens NVM|Waterproof Paper

GRE332S

Add to cart

Cascade Mountains Hiking Maps - South Region




Mc Coy Peak|Paper

GRE333

Add to cart

Cascade Mountains Hiking Maps - South Region




Mc Coy Peak|Laminated

GRE333-lam

Add to cart

Cascade Mountains Hiking Maps - South Region




Blue Lake|Paper

GRE334

Add to cart

Cascade Mountains Hiking Maps - South Region




Blue Lake|Laminated

GRE334-lam

Add to cart

Cascade Mountains Hiking Maps - South Region




Walupt Lake|Paper

GRE335

Add to cart

Cascade Mountains Hiking Maps - South Region




Walupt Lake|Laminated

GRE335-lam

Add to cart

Cascade Mountains Hiking Maps - South Region




Mt St Helens|Paper

GRE364

Add to cart

Cascade Mountains Hiking Maps - South Region




Mt St Helens|Laminated

GRE364-lam

Add to cart

Cascade Mountains Hiking Maps - South Region




Mt St Helens Northwest-the Crater|Paper

GRE364S

Add to cart

Cascade Mountains Hiking Maps - South Region




Mt St Helens Northwest-the Crater|Laminated

GRE364S-lam

Add to cart

Cascade Mountains Hiking Maps - South Region




Lone Butte|Paper

GRE365

Out of stock indefinately

Cascade Mountains Hiking Maps - South Region




Lone Butte|Laminated

GRE365-lam

Out of stock indefinately

Cascade Mountains Hiking Maps - South Region




Indian Heaven Wilderness|Paper

GRE365S

Add to cart

Cascade Mountains Hiking Maps - South Region




Indian Heaven Wilderness|Laminated

GRE365S-lam

Add to cart

Cascade Mountains Hiking Maps - South Region




Mt Adams West|Paper

GRE366

Add to cart

Cascade Mountains Hiking Maps - South Region




Mt Adams West|Laminated

GRE366-lam

Add to cart

Cascade Mountains Hiking Maps - South Region




Mt Adams Special Series|Paper

GRE367S

See New Special Series Edition

Cascade Mountains Hiking Maps - South Region




Lookout Mountain|Paper

GRE396

Out of Print

Cascade Mountains Hiking Maps - South Region




Lookout Mountain|Laminated

GRE396-lam

Out of Print

Cascade Mountains Hiking Maps - South Region




Wind River|Paper

GRE397

Add to cart

Cascade Mountains Hiking Maps - South Region




Wind River|Laminated

GRE397-lam

Add to cart

Cascade Mountains Hiking Maps - South Region




Willard|Paper

GRE398

Add to cart

Cascade Mountains Hiking Maps - South Region




Willard|Laminated

GRE398-lam

Add to cart

Cascade Mountains Hiking Maps - South Region




Bridal Veil, WA & OR|Paper

GRE428*

Add to cart

Cascade Mountains Hiking Maps - South Region




Bridal Veil, WA & OR|Laminated

GRE428-lam*

Add to cart

Cascade Mountains Hiking Maps - South Region




Columbia River West|Waterproof Paper

GRE428S-

Add to cart

Cascade Mountains Hiking Maps - South Region




Bonneville Dam, WA & OR|Paper

GRE429*

Add to cart

Cascade Mountains Hiking Maps - South Region




Bonneville Dam, WA & OR|Laminated

GRE429-lam*

Add to cart

Cascade Mountains Hiking Maps - South Region




Hood River, WA & OR|Paper

GRE430*

Add to cart

Cascade Mountains Hiking Maps - South Region




Hood River, WA & OR|Laminated

GRE430-lam*

Add to cart

Cascade Mountains Hiking Maps - South Region




Columbia River East|Waterproof Paper

GRES432S-

Add to cart