Rio de Janeiro & Brazil East Coast Travel Map by ITM
SKU: ITMRIO

This folded street map of Rio de Janeiro published by ITM is perfect for first time travellers or experienced vistors. It labels streets, place names, transit and tourist information.

The core of this map is the Carioca Region, while the other side of the map covers much of developed Brazil stretch from Sao Paulo to Natal. It goes as far inland as Belo Horizonte and north to Teresina on the Parnaiba River. The coastal highway through Salvador and Recife passes many beaches and historic towns which makes it a scenic drive for anyone.

Insets include Sao Paulo and the Rio de Janeiro Metro System.
Price each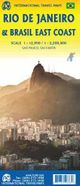 39" x 26"|1:12,900 & 1:2,200,000
Quantity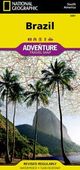 Quantity

Quantity

Quantity

Quantity

Quantity