Western Russia Travel Map by ITM
SKU: ITMRUSW

Road & Travel map of Western Russia centred on Moscow that expands outwards.

Due to the projection necessary for a map close to the North Pole, St. Petersburg and Murmansk are at the top of the map, Rostov and the Black Sea are in the southwest corner, and the Ural Mountains bless the southeast portion of the map.

The front side has an excellent inset of St. Petersburg and the reverse a city centre map of Moscow, along with the remaining portion of western Russia and the place names index.

Western Russia is the part of Russia where most people live, where the historic cities are located, and where most touristic activity takes place.
Price each
Photo
Description
SKU
Units
Price
Qty
26" x 39"|1:3,200,000 & 1:14,000
ITMRUSW

Add to cart

You Might Also Like:

Photo
Description
SKU
Units
Price
Qty
Russia Travel Map by ITM
26" x 39"|1:6,000,000
ITMRUS

Add to cart

Russia Travel Guide Book

LPPRussia

Add to cart

Russia Travel Map by Cartographia
25" x 39"|1:9,000,000
MAPCRUS

Add to cart

Russia Wall Map, Political, by National Geographic
36" x 23"|Paper
NGSR

Add to cart

Russia & C.I.S. Travel Map by Freytag & Berndt
33" x 48"|1:2,000,000 & 1:8,000,000
MAPFBCIS

Add to cart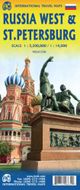 26" x 39"|1:3,200,000 & 1:14,000
Quantity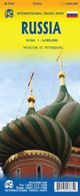 Quantity

Quantity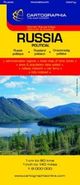 Quantity

Quantity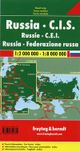 33" x 48"|1:2,000,000 & 1:8,000,000
Quantity